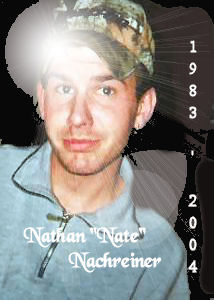 Nathan James Nachreiner, 21, New Ulm, died Tuesday, April 13, 2004, at Hennepin County Medical Center, Minneapolis. Funeral services were held at Trinity Lutheran Church, Sleepy Eye, on Monday, April 19, with interment in Home Cemetery, Sleepy Eye. Arrangements were with the Sturm Funeral Home, Sleepy Eye. E-mail condolences may be sent to the family via www.sturmfh.com.

Nathan "Nate" James Nachreiner was born Feb. 15, 1983, in New Ulm, the son of Lisa (Witt) Nachreiner and Jeffrey Christensen. He grew up in Sleepy Eye where he attended Sleepy Eye Public School and later attended River Bend Alternative School in New Ulm. After he completed his schooling, Nate worked at Coleman Power Mate in Springfield as a welder for a few years. He worked at Krysteel Manufacturing in Lake Crystal for a short time before returning to work at Coleman where he was presently employed. Nate loved to work on and fix cars, trucks and snowmobiles, his favorite was a 1980 Monte Carlo he was restoring. He enjoyed his two nephews, hanging out with his friends, Nascar racing and riding snowmobile.

Nate is survived by his mother and step-father, Lisa and Merle Bohlin of Sleepy Eye; father, Jeffrey Christensen of Springfield; brothers, Nicholas Nachreiner and fiance Ricki Goldschmidt of Sleepy Eye and Adam Braun of Sleepy Eye; maternal grandmother, Ramona Witt of Sleepy Eye; paternal grandmother, Nathalie Christensen of Springfield; special friend, Mandy Blank of New Ulm; step-grandparents, Leon and Betty Nachreiner of Sleepy Eye; nephews, Trevor and Trenton Nachreiner of Sleepy Eye; aunt, Madelyn and Jim Ronning of Bloomington; uncle, Doug Christensen of Springfield; godmother, Connie Dahlberg of Sleepy Eye; and many cousins. Nate is also survived by his many wonderful friends who were with him until his death. He was preceded in death by his maternal grandfather, Gilbert Witt; paternal grandfather, Kelly Marks; and aunt, Virginia Wilkerson.