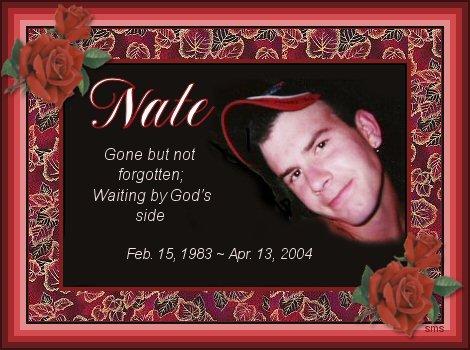 If roses grow in heaven,
Lord please pick a bunch for me
Place them in my son's arms
And tell him they're from me.
Tell him I love him and miss him
And when he turns to smile,
Place a kiss upon his cheek
And hold him for awhile
Remembering him is easy
I do it every day
But there is an ache within my heart
that will never go away.

These are some of my memories of Nate including the good times we had, his favorite things, special stories about him...just my page to Nate as his Mother. If you have a story, poem, song, memory or anything else you want to share please e-mail me or sign the guestbook. I have a section here especially for friends and family to share their feelings about Nate's life and death. I will post it there as soon as I can.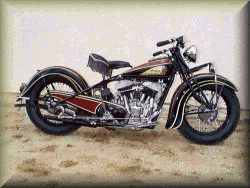 Nate was born on Feb.15, 1983. It was a good pregnancy and all I did was eat baked potatoes and sour cream for 4 months!! I craved them every day!! Nate was a wonderful baby, he was so good!! Hardly ever cried. His brother Nick was 3 1/2 and he was my little helper with Nate. As he got older, Nick and Nate loved to go fishing on Sleepy Eye Lake. They were like two peas in a pod. Only an occasional fight between the 2. When Nate was 6, Adam was born, and then Nate would be my little helper. The teenage years were kinda tough. Nate had an awful temper, and didn't like to be told what to do!! He ended up going to an Alternative school in the next town. His grades were good and everyone loved him. He also had a girlfriend, Becky, who he loved very much. They dated for about 2 yrs, and when they broke up, it was very hard on Nate. I think he thought that everyone would abandon him if he got close to them. Those were the years that him and I fought like cats and dogs. Maybe it was because we were so much alike?? He got an awesome job at Coleman Powermate in the next town and was a very good welder. He loved his job. He also was dating Mandy and they got along very good!! He also had just moved into a cute little house he was renting!! What I didn't know was that he had been talking about suicide alot, and that Mandy would always talk him out of it!! He turned 21 also, and could also drink legally, which doesn't help if you're depressed. Three weeks before he died, he went to Mandy's work and threatened to shoot himself, he had his gun and was going to do it in the parking lot, he again had been drinking. She called 911 and the police took him to the hospital. He was there for 3 days and told me he didn't belong there, as that place was for "crazy" people. He agreed to meet with the Psychiatrist every 2 weeks. She put him on Paxil, but he did NOT take it. It was the Saturday before Easter 2004. He came out to our house, was putzing around out in the shop and took his 1980 Monte Carlo out of storage. He drove it up and down the gravel road. He came in the house and said he was leaving. I reminded him that we were having Easter supper. That was the last time I seen him as my Nate. Supposedly he went home and started drinking again. Mandy had come over that evening and she had to go to work. He got very upset that she was going to work, but Mandy had to leave. After she left, he hung himself in his garage. Mandy felt something was not right, so she went and got her dad. He was the one that found Nate. The EMT's were able to get him down and shock his heart and get it going. His heart was shocked many times, but he never could breath on his own. When Merle and I got to the hospital, they were breathing for him. He was flown to a Trauma Center in Minneapolis, MN. It is a 2 hour drive by car. It was the longest 2 hours of my life. When we arrived, they already had him in the ICU, and he was on a respirator. The doctor's news was grim, and I knew right then that my Nate would not survive. He had been without oxygen too long. He was basically brain dead. An MRI would confirm it. For those 3 days, Every one of Nate's friends came to see him. Some even twice. They stood by him, held his hand, and cried for him. He maybe did not know they were there medically, but spiritually he knew! I had to make the decision to remove the life support. No one should ever have to make that decision. But, after much thought and with talking to family and friends, we knew Nate would NOT want to lay there forever. The pain he felt inside must have been very strong, he chose to die and be free of that pain and to be with God. I had to follow through with his wishes. When the respirator was removed, Nate breathed on his own for 10 min. After he passed, on April 13, 2004, I held him tight and told him how much I loved him. I also told him he was free now and at peace. When I looked up and into his face, there was a tear running down his cheek!! That was my sign that he was home, not to his home, but to our Heavenly Father's Home. I was also able to donate some of Nate's organs. His eyes, one of which has helped a person see, and the other one to research. I donated his heart valves, skin, bone and some componants in his blood. I needed to do that for my peace of mind, knowing that something good, could come out of something so tragic!! Nate would have wanted that done too. Nate loved life, he made his friends laugh, he loved his nephews, and his brothers, even though they did not always get along that great. He would help any of his friends and family. But, when someone is sick with depression, the pain they feel inside, we do not see, therefore, we can not help them. Nate did not know how much pain he would cause all of us, he DID NOT mean to make us sad. We have to believe that he is safe and happy now, and that he is watching over all of us and keeping us safe. We will mourn him forever, and never forget him. REST IN PEACE MY DEAR SON, WE WILL SEE YOU AGAIN WHEN GOD WANTS US TO!!! BUT FOR NOW, YOU ARE "HIS" SON AND WE WILL HONOR THAT. JUST REMEMBER THAT WE ALL LOVE YOU AND MISS YOU!!!!!!
ALL MY LOVE,
Mom

HEY LOOK AT ME MOM
Hey look at me Mom, I'm an Angel now
Standing at Heaven's door
Can't you see me?
Watch me as I soar!
I'm at total peace now
Don't cry for me very long
I'm here in the Lord's embrace
Right where I belong
I must be very special
God called for me so soon
Look and listen closely
You may hear my Angel's tune
Nothing can hurt me now Mom
I just wish that you could see
My wings are fastened tightly
And I'm all that I can be!
I can now watch over you
To guide you along your way
My love will still surround you
Each and everyday.
I have to go for now
There's so much to be done
God's work is never ending
And I've only just begun.
by Antoinette Eisenhower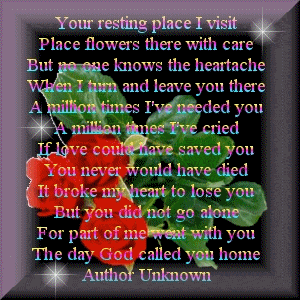 Parent of a Suicide
Questions left unanswered
torturing to the head
Lie in bed awake at night
Wondering what you could have said
Gone forever, never to be seen
Their eyes which did sparkle and so brightly gleam
Are they here or not , I wonder everyday
Again questions left unanswered, much to my dismay
Memories are foggy , turning into blur
To speak their name aloud has become just another slur
Forbidden by society, the silence becomes so loud
Don't tell them how they left you, it might upset the crowd
A Wonderful human being has left and no one really cares
All that's left is open mouths with nothing but silly stares
No questions or answers there for you, your shoes they never wore
Its not a pair for anyone ,can't be bought in any store
If the price tag was visible, I know not one would buy
The cost to wear these shoes is just to Friggin high
Written by: Denise.... Carl's mom
Dedicated to greypoupon8

Go ahead, mention my son,
The one that died, you know.
Don't worry about hurting me further.
The depth of my pain doesn't show.
Don't worry about making me cry.
I'm already crying inside.
Help me to heal by releasing
The tears that I try to hide.
I'm hurt when you just keep silent,
Pretending he didn't exist.
I'd rather you mention my child,
Knowing that he has been missed.
You asked me how I was doing.
I say "pretty good" or "fine".
But healing is something ongoing
I feel it will take a lifetime.
A child is such a precious gift
To love, to hold, to treasure
A very special miracle
who gives us so much pleasure.
But when that gift is taken
and our hearts are cold and torn
Amid this grief and sorrow'
we're so glad that they were born.
for they leave a precious legacy
even though we're far apart,
the love they left behind them
will stay forever in our heart.
~unknown~